E2V-Z (smart)
E2V-S*; E2V-Z*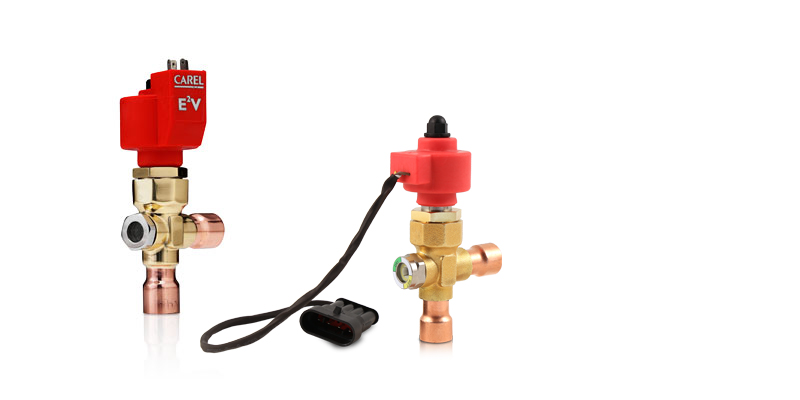 General characteristics

The CAREL E2V electronic expansion valves for low capacity applications combine high reliability and precise control, guaranteed by the equal percentage characteristic of the movable element and the 15 mm stroke without axial rotation.
The wide range available can cover all applications that require cooling capacities up to 40 kW. The possibility of operation with fluid flow in both directions is especially useful when the valve is used for heat pump applications, moreover simplifying refrigerant circuit layout and reducing installation costs. Fitted on all sizes, the Teflon gasket on the movable element guarantees perfect tightness on closing.
E2V SMART
The E2V smart series adds the modular (it's a demountable valve) advantages to the well known high reliability and quality control of the hermetic E2V series.
Especially in its newest version, the E2V-Z, it can satisfy the most demanding HVAC/R applications that are nowadays asking for even more performant products able to serve critical environments even if providing easy installation processes and furthermore assuring a simplified logistic management to OEMs.
E2V-Z has been developed right for providing all of this, with particular regard to the Retail market but well suiting any refrigerating circuit demands, thanks to the innovative design of the valve-body, unique for all the different cartridge sizes.
This new concept permits to fit whatever size of cartridge on the same piece of body, enabling a capacity variation just by replacing the valve cartridge.
Documentation
Technical
Technical Leaflets

* Entries are ordered by date

Code
Description
Language
Date *
Release

Code

+050001462

Description

E2V-Z - Valvola di espansione elettronica / Electronic expansion valve / Détendeur électronique / Elektronisches Expansionsventil / Válvula de expansión electrónica

Language

ENG FRE GER ITA SPA

Date

22/07/2021

Release

1.9

Code

+050001465

Description

E2V-S Unipolar - Valvola di espansione elettronica / Electronic expansion valve / Détendeur électronique / Elektronisches Expansionsventil / Válvula de expansión electrónica

Language

ENG FRE GER ITA SPA

Date

22/07/2021

Release

3.6

Code

+050001460

Description

E2V-S - Valvola di espansione elettronica / Electronic expansion valve / Détendeur électronique / Elektronisches Expansionsventil / Válvula de expansión electrónica

Language

ENG FRE GER ITA SPA

Date

22/07/2021

Release

3.6

Code

+05C001465

Description

E2V-S Unipolar - Valvola di espansione elettronica / Electronic expansion valve / Détendeur électronique / Elektronisches Expansionsventil / 电子膨胀阀

Language

CHI ENG FRE GER ITA

Date

28/09/2012

Release

3.0

Code

+05C001460

Description

E2V-S - E2V-S - Valvola di espansione elettronica / Electronic expansion valve / Détendeur électronique / Elektronisches Expansionsventil / 电子膨胀阀

Language

CHI ENG FRE GER ITA

Date

28/09/2012

Release

3.0
Commercial
Application Note

* Entries are ordered by date

Code
Description
Language
Date *
Release

Code

+4000022IT

Description

La valvola di espansione elettronica - una soluzione per ridurre le inefficienze energetiche all'avviamento

Language

ITA

Date

18/04/2013

Release

1.0

Code

+4000022EN

Description

Electronic expansion valves - a solution to reduce energy inefficiency at start-up

Language

ENG

Date

18/04/2013

Release

1.0

Product guide

* Entries are ordered by date

Code
Description
Language
Date *
Release

Code

+800004031

Description

Solutions for Air Handling Units: Technology and expertise for indoor air quality and energy saving

Language

ENG

Date

01/07/2021

Release

1.0

Code

+800004030

Description

Soluzioni per Unità Trattamento Aria: Tecnologia e competenza per la qualità dell'aria e il risparmio energetico

Language

ITA

Date

01/07/2021

Release

1.1

Brochure

* Entries are ordered by date

Code
Description
Language
Date *
Release

Code

+3000175FR

Description

E2V-CW Hautes performances et simplicité d'installation

Language

FRE

Date

05/12/2018

Release

1.0

Code

+3000175DE

Description

E2V-CW Leistungsstark und installationsfreundlich

Language

GER

Date

05/12/2018

Release

1.0

Code

+3000175EN

Description

E2V-CW High performance and easy installation

Language

ENG

Date

05/12/2018

Release

1.0

Code

+3000175IT

Description

E2V-CW Elevate prestazioni e semplicità di installazione

Language

ITA

Date

05/12/2018

Release

1.0

Code

+3000127EN

Description

High efficiency management for residential heat pumps

Language

ENG

Date

01/10/2018

Release

2.0

Code

+3000122DE

Description

E2VZ: Elektronische Ventile für die Kälte Kompromisslose Leistungen und Benutzerfreundlichkeit

Language

GER

Date

19/03/2018

Release

1.1

Code

+3000122FR

Description

E2VZ: vannes électroniques de réfrigération. Performances et simplicité sans aucun compromis

Language

FRE

Date

19/03/2018

Release

1.1

Code

+3000122EN

Description

E2V-Z: Electronic valves for refrigeration Performance and simplicity without compromises

Language

ENG

Date

19/03/2018

Release

1.1

Code

+3000122IT

Description

E2V-Z: Valvole elettroniche per refrigerazione Perfomance e semplicità d'uso senza compromessi

Language

ITA

Date

19/03/2018

Release

1.1

Code

+3000025EN

Description

E2V smart: electronic expansion valve

Language

ENG

Date

01/10/2010

Release

1.0

Code

+3000028ZH

Description

EXV sistema: 精湛的工艺 强大的控制功能

Language

CHI

Date

01/10/2010

Release

1.0

Code

+3000028IT

Description

EXV sistema: meccanica di precisione, potenza di controllo

Language

ITA

Date

01/10/2010

Release

1.0

Code

+3000028FR

Description

EXV sistema: mécanique de précision, régulation efficace

Language

FRE

Date

01/10/2010

Release

1.0

Code

+3000028EN

Description

EXV sistema: Precision mechanics, powerful control

Language

ENG

Date

01/10/2010

Release

1.0

Code

+3000028DE

Description

EXV sistema: Präzisionsmechanik, Regelpotenz

Language

GER

Date

01/10/2010

Release

1.0

Code

+3000025ZH

Description

E2V smart: 电子膨胀阀

Language

CHI

Date

01/10/2010

Release

1.0

Code

+3000025IT

Description

E2V smart: valvola di espansione elettronica

Language

ITA

Date

01/10/2010

Release

1.0

Code

+3000021IT

Description

PCO SISTEMA+

Language

ITA

Date

01/03/2010

Release

1.0

Code

+3000021EN

Description

PCO SISTEMA+

Language

ENG

Date

01/03/2010

Release

1.0