Air quality and CO2 sensors
DPWQ* - DPPQ*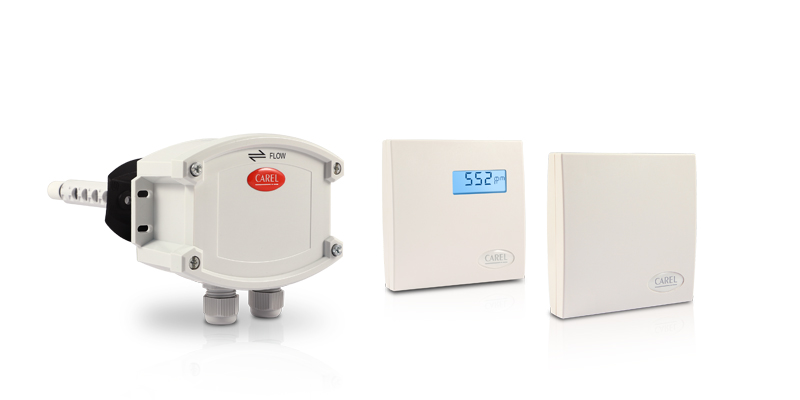 General characteristics

CO2 and VOC (volatile organic compound) air quality sensors are used to measure and monitor the concentration of CO2 and VOC in air-conditioned commercial and residential environments.

These provide the controller a proportional signal to manage activation of the outside air intake fans when necessary, thus making building climate control more efficient and ensuring better air quality for occupants (e.g. in shopping centres, shops, theatres and offices).

The CO2 sensor uses NDIR (Non-Dispersive Infrared) technology and detects concentrations of gas deriving from human respiration.

The VOC sensor detects a number of air pollutants, such as: carbon monoxide, hydrogen sulphide, solvent and alkane vapours, cigarette smoke, car exhaust, air expelled by human respiration, combustion smoke from wood, paper and plastic.
Documentation
Technical
Technical Leaflets

* Entries are ordered by date

Code
Description
Language
Date *
Release

Code

+050001302

Description

DPWQ 402000 Sonde d'ambiance de CO2, avec auto-calibrage, avec commutation multi-gamme, sortie active et tout ou rien DPDQ 402000 avec bride de montage Sonde de CO2 pour montage en gaine, avec auto-calibrage, avec commutation multi-gamme, sortie active et tout ou rien

Language

FRE

Date

21/01/2020

Release

3.1

Code

+050001303

Description

DPWQ 402000 Raum-CO2-Fühler, selbstkalibrierend, mit Mehrbereichsumschaltung und aktivem und schaltendem Ausgang DPDQ 402000 incl. Montageflansch Kanal-CO2-Fühler, selbstkalibrierend, mit Mehrbereichsumschaltung und aktivem und schaltendem Ausgang

Language

GER

Date

21/01/2020

Release

3.1

Code

+050001301

Description

DPWQ 402000 Room CO2 sensor, with self-calibrating, with multi-range switching, active and switching output DPDQ 402000 including mounting flange Duct CO2 sensor, with self-calibrating, with multi-range switching, active and switching output

Language

ENG

Date

21/01/2020

Release

3.1

Code

+050001300

Description

DPWQ 402000 Sensore di CO2 per ambiente, con calibrazione automatica, con diverse opzioni di configurazione, uscita attiva e uscita digitale DPDQ 402000 incl. flangia di montaggio Sensore di CO2 per canale, con calibrazione automatica, con diverse opzioni di configurazione, uscita attiva e uscita digitale

Language

ITA

Date

21/01/2020

Release

3.1

Code

+050001290

Description

DPWQ 306000 Sonda di qualità dell'aria (VOC) per ambiente, con calibrazione automatica, con diverse opzioni di configurazione, uscita attiva e uscita digitale DPDQ 306000 incl. flangia di montaggio Sonda di qualità dell'aria (VOC) per canale, con calibrazione automatica, con diverse opzioni di configurazione, uscita attiva e uscita digitale

Language

ITA

Date

08/08/2017

Release

3.0

Code

+050001291

Description

DPWQ 306000 Room air quality sensor (VOC), with self-calibrating, with multi-range switching, active and switching output DPDQ 306000 including mounting flange Duct air quality sensor (VOC), with self-calibrating, with multi-range switching, active and switching output

Language

ENG

Date

08/08/2017

Release

3.0

Code

+050001292

Description

DPWQ 306000 Sonde d'ambiance de mesure de qualité de l'air (COV), avec auto-calibrage, avec commutation multi-gamme, sortie active et tout ou rien DPDQ 306000 avec bride de montage Sond de mesure de qualité de l'air (COV) pour montage, avec auto-calibrage, avec commutation multi-gamme, sortie active et tout ou rien

Language

FRE

Date

08/08/2017

Release

3.0

Code

+050001293

Description

DPWQ 306000 Raum-Luftqualitätsfühler (VOC), selbstkalibrierend, mit Mehrbereichsumschaltung und aktivem und schaltendem Ausgang DPDQ 306000 incl. Montageflansch Kanal-Luftqualitätsfühler (VOC), selbstkalibrierend, mit Mehrbereichsumschaltung und aktivem und schaltendem Ausgang

Language

GER

Date

08/08/2017

Release

3.0

Code

+0500013EN

Description

DPWQ 502000 Room air quality (VOC) and CO2 sensor, with self-calibrating, with multi-range switching, active and switching output DPDQ 502000 including mounting flange Duct air quality (VOC) and CO2 sensor, with self-calibrating, with multi-range switching, active and switching output

Language

ENG

Date

08/08/2017

Release

3.0

Code

+0500013FR

Description

DPWQ 502000 Sonde d'ambiance de mesure de qualité de l'air (COV) et de CO2, avec auto-calibrage, avec commutation multi-gamme, sortie active et tout ou rien DPDQ 502000 avec bride de montage Sonde de mesure de qualité de l'air (COV) et de CO2 pour montage, avec auto-calibrage, avec commutation multi-gamme, sortie active et tout ou rien

Language

FRE

Date

08/08/2017

Release

3.0

Code

+0500013DE

Description

DPWQ 502000 Raum-Luftqualitäts- (VOC) und CO2-Sensor, selbstkalibrierend, mit Mehrbereichsumschaltung und aktivem und schaltendem Ausgang DPDQ 502000 incl. Montageflansch Kanal-Luftqualitäts- (VOC) und CO2-Sensor, selbstkalibrierend, mit Mehrbereichsumschaltung und aktivem und schaltendem Ausgang

Language

GER

Date

08/08/2017

Release

3.0
Commercial
Product guide

* Entries are ordered by date

Code
Description
Language
Date *
Release

Code

+800004030

Description

Soluzioni per Unità Trattamento Aria: Tecnologia e competenza per la qualità dell'aria e il risparmio energetico

Language

ITA

Date

01/07/2021

Release

1.1